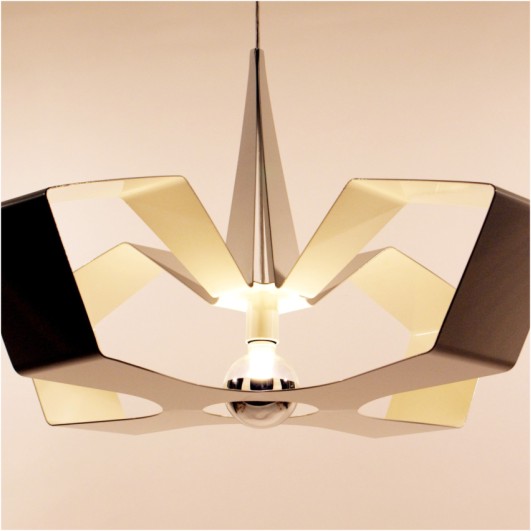 STAR
STAR 450 & STAR 850 PENDENT LAMPS
Light taken to a whole new level.
Apparently considered to be a futuristic design, STAR is an exciting diamond shaped pendent lamp that took inspiration on the sharpen edged Origami constructions.
STAR clearly features a dramatic composition of folded surfaces that truly reminds the flexibility and lightness of paper.
Lightness and flexibility also played an important role when came to the material selection. 2mm aluminium plate was the raw material selected in order to create the whole structure.
The designer tried to concentrate his work on the light / shadow interaction between the core lighting bulb and the object itself, as it provides an enigmatic reflection on its high glossy surfaces.
STAR transmits warmth and a certain harmony but you can clearly see drama and movement on the most varied interior combinations. Interior designers will be able to create the most casual and glamorous environments, "romantic" and chic.
STAR product variations include STAR 850 and STAR 450.
Material: Aluminium
STAR 850 - Ø: 850mm H:538mm
Weight: 3,2 Kg
STAR 450 - Ø: 450mm H:343mm
Weight: